The Comal Inn is nestled in a quiet neighborhood in the heart of New Braunfels, Texas.
The Inn is located across the street from the beautiful spring-fed Comal River and walking distance from the historic downtown New Braunfels Main Plaza and the world famous Schlitterbahn Water Park. We are minutes away from Gruene, Texas, home of Gruene Hall – the oldest dance hall in Texas.

As a family retreat, a getaway for friends, a romantic escape, or just visiting family & friends in New Braunfels, the Comal Inn is a wonderful and restful destination. Each of our cottages and private rooms are spacious, charming and well appointed. Come and enjoy the privacy that the Comal Inn has to offer. The Comal Inn is a perfect place to relax, rejuvenate, and enjoy all that New Braunfels has to offer.
Three private rooms are the Juniper, Mountain Laurel and Cypress. Each room has it's own private porch, a king size bed with a down comforter, a full-size sleeper sofa, pine floors, Jacuzzi bath tub, and a small refrigerator and microwave tucked away in a roomy closet. Each private room sleeps up to 4.
Our two cottages are the New Braunfels Cottage and the Texas Cottage. The Texas cottage has a private front porch, 2 bedrooms, 2 baths, and an open living room, dining room, kitchen concept. This cottage sleeps up to 6 people. The New Braunfels Cottage has 2 bedrooms, 2 baths, kitchen, dining room, living room, and sitting room. This cottage has a private front porch and sleeps up to 8 people. Both cottages share an outdoor sitting area.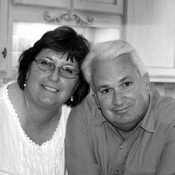 Inn Keepers
Brent & Julie Downey
My husband & I are from New Braunfels and we have lived in this area our entire lives and together have raised our 3 children in New Braunfels. We fell in love with this property and purchased it in January 2015. We manage the Inn and live on property.
424 Comal Ave.
New Braunfels, TX 78130
We are 1 block from the New Braunfels Civic/Convention Center
What are your nightly rates?
Individual private rooms are $155 per night plus a 13% tax.
Cottage rates are $280 per night plus a $75 cleaning fee + 13% tax.
How far are you from Gruene, TX?
We are 3.4 miles to Gruene Hall, a short 10 minute drive by car.
How far are you located from the Comal River?
We are located across the street from the Comal River. Across the street, there is a public entrance and exit to the river.